Safety
TEST
Measure the potential risk of candidates and current employees to be involved in workplace accidents
SafetyTEST is an innovative and unique assessment tool for identifying candidates and employees with high risks to be involved in unsafe behaviors and accidents in the workplace. It also alerts when a gap is identified between candidates' safety profiles and the risk level of their job. By combining SafetyTEST scores and recommended follow-up actions, Midot assists organizations worldwide to manage their safety culture and reduce costs related to accidents at work.
Contribute to the organization through eliminating potential accidents and helping create focused and cost-effective training programs
According to some estimates, as much as 80%-90% of workplace accidents are caused by people's unsafe behaviors. Therefore, preventing such behaviors is critical to reducing the costs associated with workplace accidents. Indeed, an organization's financial costs due to workplace accidents can include medical expenses, worker's compensation payments, absenteeism, low/ lost productivity, increased insurance premiums, and more.
SafetyTEST's detailed report does not only provide the overall risk indicator of an examinee; it also points out several weak spots that may need to be addressed, making trainings more focused and efficient. In the same way, SafetyTEST identifies the low-risk employees that can be developed to become safety supervisors. Managers can also use the test to restructure work teams by placing "stars" together with risky team members.
Specifications
Administration Format:
Online
Appropriate for:
All positions, all levels, candidates and coworkers
Testing time:
15 – 20 minutes
Number of items:
81- 87 items
Location:
On-site or remote testing
Reporting:
Immediately available online
Response format:
Multiple choice
Test versions:
Manufacturing, driving, heavy industry, transfer of hazards materials, mining, electricity, catering, etc.
"When someone is clumsy, gets easily stressed out, or tends to take risks, no matter how much we invest in training and equipment, in the end, accidents will occur…"
Reduce costs & improve your business social environment and prestige
Prevent accidents and avoid direct financial loss.
Increase staff motivation and be acknowledged as a safe and socially responsible company.
Safety

TEST

guides your organization towards an individual and collective well-being, having a far-reaching impact.
The return on investment for using the Safety

TEST

can be accurately measured with Midot ROI calculator
Podium, a highly efficient assessment platform
Manage your entire personnel selection process in one place
 Easily customize Podium to your organizational needs
See all your assessments and usage analytics in clear dashboards
Cloud–based service, with no installation or additional hardware required.
Tools to predict, measure and compare
Identify exactly which employees should be trained, and in what areas. Save training costs, improve results, and gain motivated supervisors and employees.
Use Safety

TEST

's Job Risk Level Catalogue to match employees' own safety profiles with the right positions.
Once employee risks are mapped, the organization can build more balanced work teams. For example, some new employees can be placed with more experienced ones, and some risky employees can be placed with safer ones etc.
Use our analytics module to identify weak links within the organization – by plant, business unit, or any group population, and plan your safety training programs more effectively.
Receive professional recommendations for short-term and long-term planning and implementation strategies for occupational safety.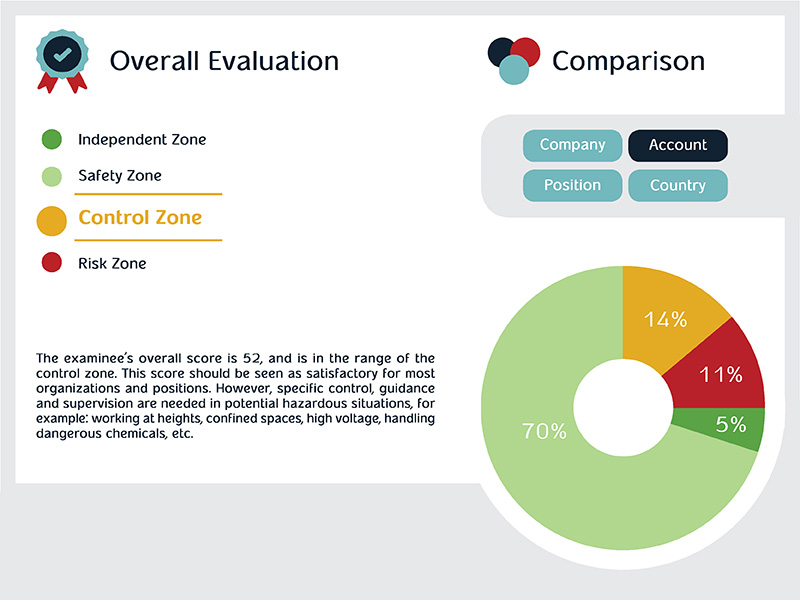 Try it out
"They successfully pass our training, but sometimes behave differently in the field. It must be something within the person, beyond his knowledge."
The SafetyTEST has been created and validated together with our strategic customers and partners, making it a highly relevant and accurate tool for measuring, predicting and correcting behaviors that may cause accidents in the workplace.
Companies using SafetyTEST as part of their safety standards report reduced accidents in the workplace, and better placed employees in positions that suit their risk behavior levels
Request a demo
Scales
Behavioral Dimensions:
Personality Trait Measurements:

Customized versions for specific job risks and work environments are also available.
Customer Benefits Package
As a Midot customer, you receive access to your chosen assessments, process management tools, and a wide range of complementary services: training, support, professional consulting, ROI analysis, local validation, and norms and scoring optimization. We are here to support your responsibility through a comprehensive and professional approach.
TRAINING
From day one and all the way through the service cycle, unlimited online and in-person training is available to all test administrators.
SUPPORT
Midot's team is always ready to answer users' queries, typically with near-immediate response times.
RESEARCH
Unrivaled scientific research and publications from dozens of academic studies worldwide provide a robust backing for assessment decisions and enable accurate ROI calculations.
COUNSEL
Midot is led by an interdisciplinary team of senior researchers, developers and managers with extensive education and experience in psychology, psychometrics, scientific questioning, and security.
Reports – Make informed decisions immediately
Examinees' results are available online, immediately upon completion of the test. Their results are easily short-listed by score and can also be viewed individually with detailed information for in-depth analysis. All data is easily exported to excel for statistical analysis and managerial decisions.
LEARN MORE ABOUT
Integri
TEST
An assessment designed to measure integrity & counterproductive work behaviors among job applicant
LEARN MORE ABOUT
Stabili
TEST
An assessment designed to predict early resignation potential among job applicants
Skip to content