Integri
TEST
Employment Integrity Testing
IntegriTEST, the flagship product of Midot, measures integrity and counterproductive work behaviors among job applicants. Validated and accurate, highly effective, the test is the standard selection tool employed by thousands of organizations world-wide.
The next employee you recruit may lead to your company's success or failure
Low integrity may lead to occupational offenses; theft of property, money or information, bribery and rule breaking. Leading scientific studies have demonstrated that integrity tests not only predict risky behavior, but also overall job performance! Midot IntegriTEST is a web-based integrity test that allows you to evaluate your candidates' risk of occupational offenses by assessing their attitudes, opinions, and past behaviors.
Our New IntegriTEST, released Q1 2019, changes the entire Integrity testing experience; questions are more dynamic, candidates can better express themselves in free text and therefore are more liable to be open and share reliable information. Recruiters are better able to learn their candidates' values and suitability for the organization, and can use our new desktop report as a work- sheet to check scores, read answers, write and share their own notes and record the entire follow-up interview, all in one place.
Specifications
Administration Format:
Online
Appropriate for:
All positions, all levels
Testing time:
Approximately 20 minutes
Number of items:
96-194 items (depending on version)
Location:
On-site or remote testing
Reporting:
Immediately available online
Language level requirements:
7th grade
Response format:
Multiple choice and free text when desired
"In looking for people to hire, you look for three qualities: integrity, intelligence, and energy. And if they don't have the first, the other two will kill you."
Warren Buffet
Personalized, optimized, relevant
Choose from 30 pre-defined test versions available in our catalog or customize an unlimited number of versions and test questions according to your company's needs and policies. Tests can be short or long, basic or advanced.
Gain standardization – integrate your own specific informative questions into the Integri

TEST

, define the rules and view all answers in the report.
Personalize testing norms to maximize the test within your company, using standards and selection reality.
Reach the best decisions through interactive reports
Beyond the test results, you will receive additional support information for follow-up interviews in order to help you reach the best decisions promptly.
Use our online benchmarks to compare your company's performance with relevant comparison groups.
For professional hiring decisions, you can share your candidates' key answers, as well as insights from their interviews, with your Team.
Highly accurate and scientifically- validated
Integri

TEST

 has been repeatedly proven to be highly accurate, backed by series of independent academic studies carried out around the world (see our list of scientific publications).
A unique, intelligent, clinical-mathematical algorithm measures more than just the examinee's answers; it reveals patterns of responses which allow a true understanding of the examinees' potential risks.
Our New Integri

TEST

 incorporates most recent psychological and interrogative techniques to achieve more reliable responses.
Add efficiency to your selection process. Save time, money and resources
Use Midot IntegriTEST as a preliminary screening tool and deal more efficiently with large volumes of candidates.
Obtain an access password and administer an online test tailored to your needs in only a few minutes.
Test are performed anywhere, 24/7. Test duration is about 20 mins. Upon completion, reports are immediately available online.
Questionnaire is friendly, non-invasive and dynamic, adding more questions only when required.
Recruiter's power tools
After 30 years of collecting data and statistics, Midot offers you unprecedented comparison and further inquiry tools.
Compare candidate's test results and see how your company and business unit perform – with benchmarks from other populations.
Receive background information and professionally phrased questions for follow-up interviews.
Use the comments pop-ups during the interview, to insert explanations and insights you find valuable. Share them with your colleagues and managers.
We are passionate about leading the field
Ensuring test result accuracy is critical, as test outcomes can significantly impact people's careers and lives, as well as the company's security and success. Midot is the world leader in integrity testing not only because we were one the first, biggest and most globally adapted, but because we are also passionately committed to professionalism and science.
For over 30 years we have offered integrity testing – consistently foreseeing the future.
Almost no other integrity test publishers have investigated and published as many papers acknowledged by the academy, as Midot.
With our New IntegriTEST we keep innovating with new techniques and services. The new test offers more customization, and it is more secure and reliable than ever before.
Podium, a highly efficient assessment platform
Manage your entire personnel selection process in one place
 Easily customize Podium to your organizational needs
See all your assessments and usage analytics in clear dashboards
Cloud–based service, with no installation or additional hardware required.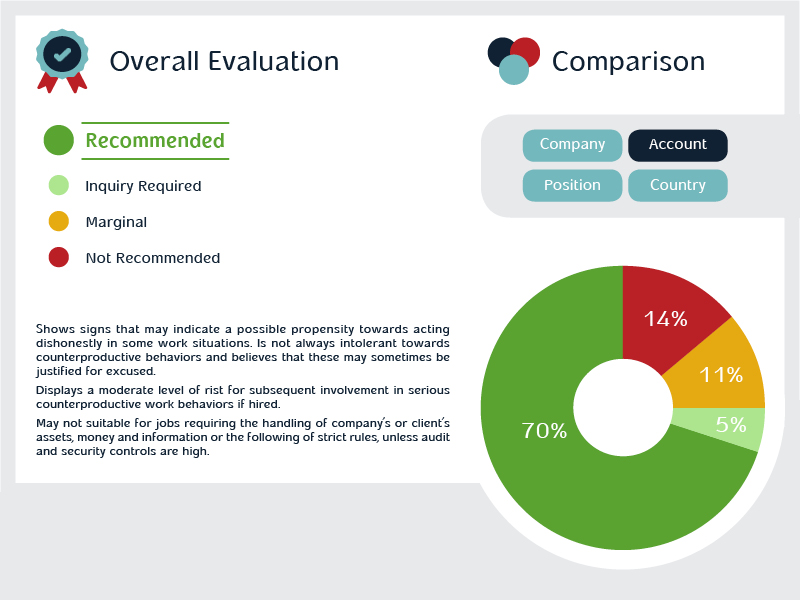 Try it out
The IntegriTEST has been validated and revised over the past 30 years, making it a highly effective and accurate tool for occupational integrity testing.
Companies selecting their new employees through the IntegriTEST, report that their employees are not only more reliable and trustworthy; at the end of the day they also demonstrate much better overall job performance.
92% of candidates report the IntegriTEST to be clear, non-invasive, non-discriminative and relevant to their job. They also share their positive impression from companies that care about work ethics, as their desire to work with such companies.
Request a demo
Scales
The IntegriTEST provides an overall recommendation score based on a candidate's evaluated risk potential for future occupational offenses.
The IntegriTEST has been customized for 13 different ​​job categories. Choose between short, basic and advanced versions, incorporating sets of background questions.
The main scales you can choose from:
In addition, recruiters can select pre-set versions from Midot's catalog, or craft their own versions based on specific requirements. Optional scales:

Additional customized questions may be added.
Customer Benefits Package
As a Midot customer, you receive access to your chosen assessments, process management tools, and a wide range of complementary services: training, support, professional consulting, ROI analysis, local validation, and norms and scoring optimization. We are here to support your responsibility through a comprehensive and professional approach.
TRAINING
From day one and all the way through the service cycle, unlimited online and in-person training is available to all test administrators.
SUPPORT
Midot's team is always ready to answer users' inquiries, typically with near-immediate response times.
RESEARCH
Unrivaled scientific research and publications in dozens of academic studies worldwide provides robust backing for assessment decisions and enables accurate ROI calculations.
COUNSEL
Midot is led by an interdisciplinary team of senior researchers, developers and managers with extensive education and experience in psychology, psychometrics, scientific questioning, and security.
Reports – Make informed decisions immediately
Candidate's results are available online, immediately upon completion of the test. Their results are easily short-listed by score and can also be viewed individually with details and more extensive information for in-depth analysis. All data is easily exported to Excel for statistical analysis and managerial decisions.
LEARN MORE ABOUT
Safety
TEST
An assessment designed to measure the potential risk for candidates and coworkers to be involved in accidents
LEARN MORE ABOUT
Stabili
TEST
An assessment designed to predict early resignation potential among job applicants
Skip to content